Electric Under Floor Heating Systems for Ceramic Tiles, LVT & Engineered Wood Flooring.
---

---
Who we are & what do we do ?
MPS Electrical Ltd are electric under floor heating specialists in Leeds. We are Part P 18th edition Amendment 2 approved Electrical underfloor Heating Specialists based in Leeds that install & maintain electrical underfloor heating systems both carbon infra red systems & lose wire electrical heating Matt systems.
---
What type of sub flooring types can you install electrical underfloor heating on ?
We can install under floor heating on concrete & wooden timber sub floor including screeded floors.
All our under floor heating systems installed in Leeds are custom made to suit the area in which they are installed to serve which involved a site measure up.
MPS also install the finished flooring product too from tiles to oak engineered flooring and offer a wide range of choices for our customers.
---

All of our under floor heating systems come with a range of different thermostatic controllers ranging from standard controllers to SMART programmable electronic controllers that you can operate from your mobile phone.
---
Different sub floors within the home call for a certain type of under floor heating system, these vary in overall wattage output to heat the final finished flooring whether it be wooden, luxury vinyl or ceramic tiles. Best thing to do is give Marc a call and he will happily share with you over 27 years of fitting experience on your requirements.
This is why when selecting underfloor heating systems for a room it is best to contact a specialist who can advise what type of under floor heating system you require based on the type and usage of the room it is to be installed in and the finished floor etc. If I had a pound for every time someones called me up to fix a DIY underfloor heating system fitted by either themselves or the tiler on the cheap and its gone belly up, I would be a millionaire now indeed reading this from the Bahamas!
Can you install underfloor Heating in the Bathroom to warm and dry the floor as its like a swimming pool after bath time with the kids……..
Yes we can!
Bathroom areas have to be tiled and also require a specific under floor heating system. The lose wire system because a bathroom is a wet area and as such the under floor heating system elements must be protected from water ingress. So in this case we screed them in like we do all lose wire underfloor heating elements that are to be fitted under ceramic tiles.
In the bathroom zones we install a lose wire under floor heating system and enclose the elements in a protective screed on top of a tile backer board as not to ruin your sub floor. This is also advised so the floor tiler does not damage the under floor heating elements with his trowel when fixing the tiles down to the floor, we have seen this done many times before! It also stops the movement of the floor which causes elements to break after a few years which we go out to routinely when this happens on systems installed by those not in the know.
---
How much does Underfloor Heating Cost to run?
MPS underfloor heating systems, installation and running costs vary depending on the size and scope of the project, the desired heat out-put and the daily / seasonal usage of the system. To be honest wiht the price of energy now these figures are outdated in the chart, however its not rocket science to work it out as we can tell you the size of the element and when you combine the system with a floor probe and controller that monitors both floor and air temperature you can adjust it low to suit your environment and monitor it with a smart meter knowing its full capacity off set by lowering the temperatures to monitor daily usage, who said smart meters were bad ey! they let you monitor the power consumption and i sit here daily turning mine and and off to see the difference.
---
Energy provider tariffs suited for Underfloor Heating, what do you recommend ?
The big leading energy firms offer economy 7 & economy 10 tariffs along with octopus Smart & Octopus Go tariffs these days, give your energy supplier a ring or look at specific tariffs if you rely mainly on electric heating i.e electrical underfloor heating, I know that Octopus do a new Smart tariff where you get cheap electricity (5 pence per kw roughly for a kwh) this tariff is suited for those that have underfloor heating as it gives you something like 4 x switching times during the day for a set duration to buy cheap electricity at a fraction of the silly rates they are on now. Energy prices suck at the moment but know this that there is specific tariffs for electrical users who have car chargers, solar batteries, night storage heaters and those with underfloor heaters, give me a ring I can advise you and I am here all day long happy to talk about it and point you in the right direction.
---
Underfloor Heating Flooring Insulation ?
The most important thing that effects running costs is insulation. The insulation of the floor, roof, walls and windows. We offer 5mm and upwards to 50mm, we can also build up floor levels with this so the finished systems meet other higher floors.
---
Height of the room ?
Rooms with vaulted ceilings need more energy to heat them up due to the higher volume of air. However underfloor heating is much more effective at heating rooms with high ceilings when compared to radiators. The heat of the radiators (convectional) tends to heat the top of the room before it reaches the bottom. Underfloor heating actually heats the area where people stand and sit making it more fuel efficient.
---
Some Of Our Work – Mixture of Infra Red system & Lose Wire element system in screeed.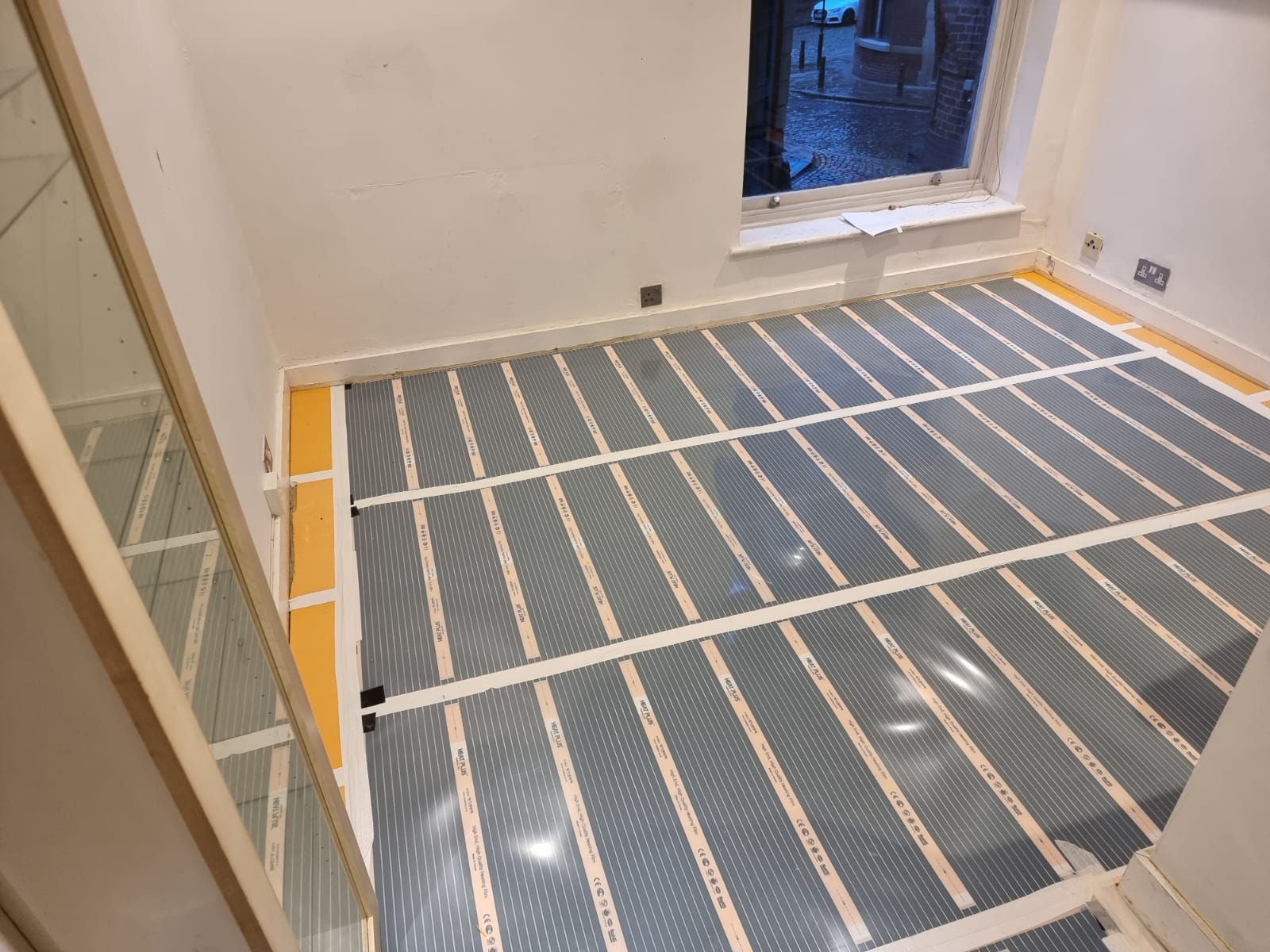 ---